What does your shop need to meet our criteria?
Full members of the RBA are all independent bridalwear retailers who have been trading for a minimum of 5 years from dedicated retail premises and are subject to business rates, with a minimum turnover of £180,000 including VAT.
Associate Members are independent bridalwear retailers who have been trading between one to five years and who are trading from a dedicated retail premises and therefore registered for busines rates (you may be exempt but need to be registered).  You will have access to all the support and expertise of the RBA which is an invaluable resource to a new bridal retail shop.  Please see below comparison table for what is included in this brand new membership type. We want to support younger shops to become a strong, financially sound business with high industry standards and then transition to become a full member of the RBA enjoying continued support from us and the RBA community.
Affiliate Members are those who have dual roles as an independent retailer and an agent in the bridal industry. The cost and benefits are the same as a full membership with some exceptions. This member type cannot sit on the Executive Council and strict rules on the membership groups (WhatsApp/Facebook) must also be followed i.e. no selling or interacting with members as an agent, only engage with your retailer hat on! If you are already a full member and decide to become an agent then you would be transferred to this membership type.
Membership enquiries are welcome from any bridalwear or men's formalwear retailer that fulfils the minimum criteria for either membership type. You can submit your application here.
Subject to no valid objections being raised by RBA members and a satisfactory report from our premises inspection then the application will be approved by the Chairman and may be deferred until the next Executive Council meeting.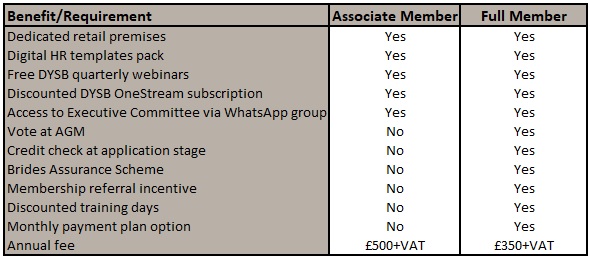 ---